Applications:
It is suitable for the measurement of powders with uniform size distribution (narrow size distribution) and small volume of particles in liquid suspension.
Principle:
Resistance (Coulter) Particle Counter uses the Electrical Sensing Zone method, also called Coulter principle to measure the particle size .As shown in the figure,the aperture tube is dipped into the electrolyte. There are two electrodes separated by the aperture tube, between the electrodes an electric current flows. Particles are suspended in a weak electrolyte solution while measuring, as particles pass through the aperture, they displace their own volume of electrolyte, momentarily increasing the resistance of the aperture. This change in resistance produces a pulse that is digitally processed in real time. Analyzing these pulses enables a size distribution to be acquired and displayed in volume and diameter.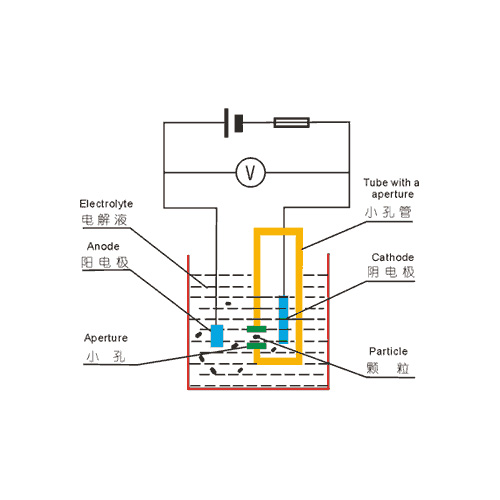 Features:
It is of high resolution since it counts particles one by one and then gives size distribution and quantity of the particles measured. Its resolution (channel) depends on the measuring accuracy of the pulse of the electrical system. It especially suitable to measure: 1) powders with high resolution requirements, or strict size distribution requirements, such as abrasive micro grits, copy powders. 2) small volume of particles in liquid suspension.
Specifications:
1. Measuring Range:1-256μm
2. Repeatability:<2%
3. Measurement Duration:15 seconds
4. Channels:8192
Report Items:
Particle size distribution table & graph, average diameter, median diameter, standard deviation, relative deviation, SSA, Particle numbers, etc.
Features:
1. Traditional design with the measuring unit, computer and oscillograph separated.
2. Advance pulse measurement technology, more than 8000 channels.
3. Replace the traditional mercury manometer with a pressure sensor, provides more accurate measurement and control of degree of vacuum, and higher automation.
4. Proprietary photoelectric liquid level detection technology makes the volume measurement more accurate and reliable.
5. Auto de-clogging function.
Software Function:
1. Four statistical modes: based on volume, particle , area and particle number.
2. Two accumulative directions:small to large, large to small.
3. Two languages: English, Chinese.
4. Report items can be set/selected according to customers' requirements.
5. Data can be replicated.