DS-1000 dynamic image analyzer is a new dynamic on-line particle image analyzer developed by Zhuhai Euramerican Instrument Co., Ltd. and Malvern Panalytical Co., Ltd. The instrument can be used not only as an independent dynamic image analyzer, but also as an image accessory to connect the laser particle size analyzer.
DS-1000 uses a patented lensless imaging technology with a wide range of particle sizes (1.4-1400 mm). It can measure real-time particle morphology data including particle size, roundness and aspect ratio distribution. It uses innovative "dispersion index" indicators to quantify the dispersion of samples, and provides a unique automatic monitoring function for abnormal particles. Combined with the morphological data of particles, DS-1000 provides a simple and effective new method for quality control of powder particles. When connected to laser particle size analyzer, DS-1000 not only provides additional particle shape data, but also helps users find the best test conditions faster and improve the accuracy of test results.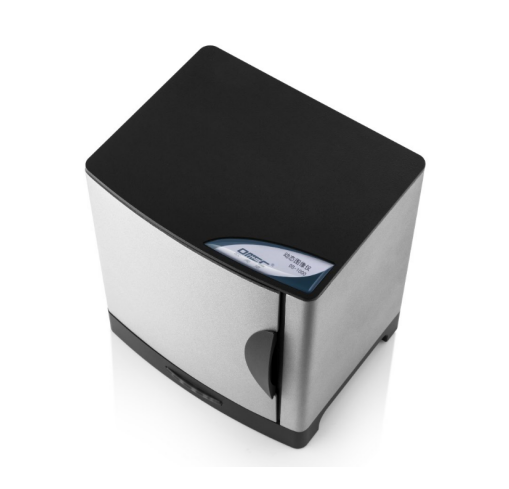 Working principle:
DS-1000 is a dynamic imager with wet sampling. When connected with the circulating sampler, the dispersed sample will circulate in the instrument and the sampler. The most important part of DS-1000 is to design precise sample windows, imaging devices and image processing technology. When the dispersed sample flows through the sample window, the instrument can acquire the image of the sample in real time and output the particle size and shape information of the sample in real time. Due to the use of lensless technology, no prior alignment, focusing or correction is required when using the instrument.
DS-1000 uses patented dynamic background processing algorithm and image processing algorithm, combined with lensless technology, to achieve dynamic and online particle image analysis.
Xiaoguan: We recommend using Euro-American version of software high-resolution screenshots - find a suitable sample field of view.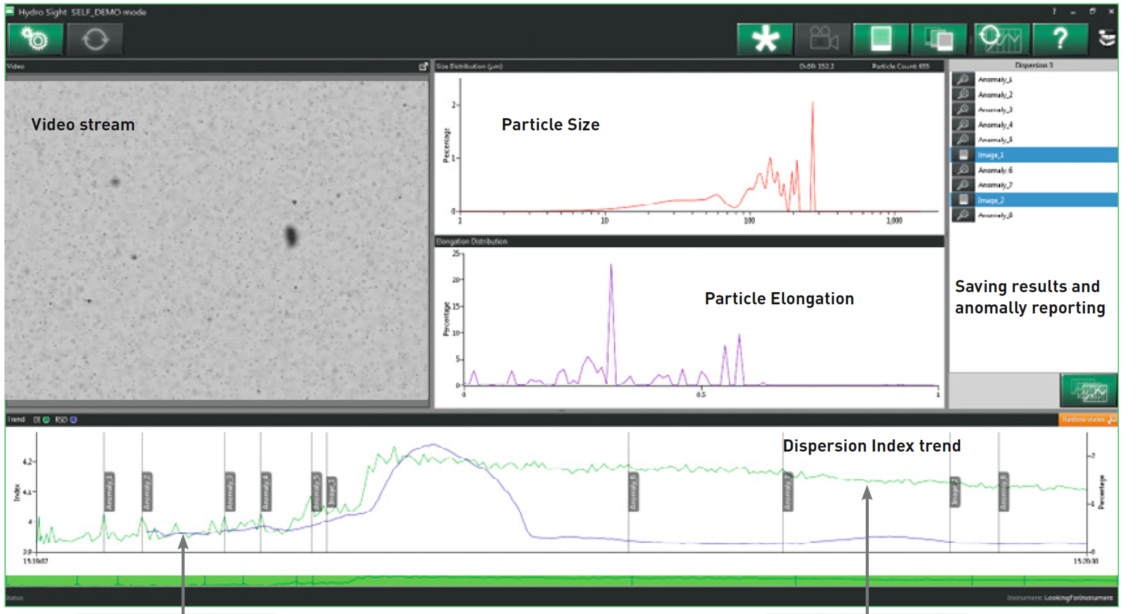 Purpose:
DS-1000 is a new type of dynamic image analyzer with high performance-price ratio, which can analyze the particle size and shape of powder samples. It can be used independently as an image analyzer or as an accessory in series with a laser particle size analyzer.
The instrument can measure the particle shape in real time and has a unique function of automatic detection of abnormal particles. It is especially suitable for those applications that have strict control over large particles or particle agglomeration. When used in conjunction with laser particle size analyzer, it can be combined with laser diffraction data to form a more complete comprehensive quality control method because it can provide independent particle size data.
DS-1000 provides the parameter of "dispersion index" to quantify the dispersion status of samples, so as to help users judge whether the dispersion conditions such as stirring, ultrasound, surfactants and stabilizers are appropriate. When combined with laser particle size analyzer, this function can help users optimize test conditions as quickly as possible and obtain accurate data.
Testing particle size and shape
Within the scope of instrument measurement, DS-1000 provides independent particle size analysis reports and image analysis reports, including commonly used particle size, roundness and aspect ratio distribution data.
Automatic detection of abnormal particles
By using the patented algorithm, DS-1000 can realize the automatic detection of abnormal particles. When large particles, aggregates or impurities pass through the sample window, they are automatically captured by the instrument. In addition to the field images, the size, distribution and shape of these abnormal particles will be recorded together.
Rapid optimization of test conditions
In the laser particle size analyzer test, whether the particle sample can be fully dispersed will directly affect the accuracy of the test results. After using DS-1000 on-line operation, the users can directly judge whether the current test conditions are correct by observing the real-time image of the size and shape of dispersed particles, such as the reunion, disaggregation or dissolution of samples. In addition, DS-1000 provides the quantitative parameter of "dispersion index" exclusively to evaluate the change of sample dispersion state in real time, which can help users find the best test conditions more quickly.
Performance characteristics:
[Easy to use]
It is small and easy to install. It can be connected with the sampler independently and with the laser particle size analyzer and the sampler at the same time. It uses lensless dynamic imaging technology and does not require user focus or calibration during routine operation.
Software is rich in functions and optimizes user experience.
DS-1000 software interface design is intuitive and simple, providing image capture and data analysis options. Continuous display and analysis of images between measurements can choose to save images and results manually or automatically according to events. The software monitors the dispersion state by the trend chart of dispersion index, which is convenient to adjust and optimize the test conditions, and has the unique function of automatic capture of abnormal particles.
[Easy maintenance and cleaning]
DS-1000 is designed to be compatible with water quality and a variety of organic dispersants and requires minimal maintenance during use. When combined with laser particle size analyzer, the sample window and pipeline can be cleaned by using the cleaning process of laser particle size analyzer itself, so no additional cleaning is needed during routine operation. If the sample window is found to be contaminated, the window can be easily opened for cleaning.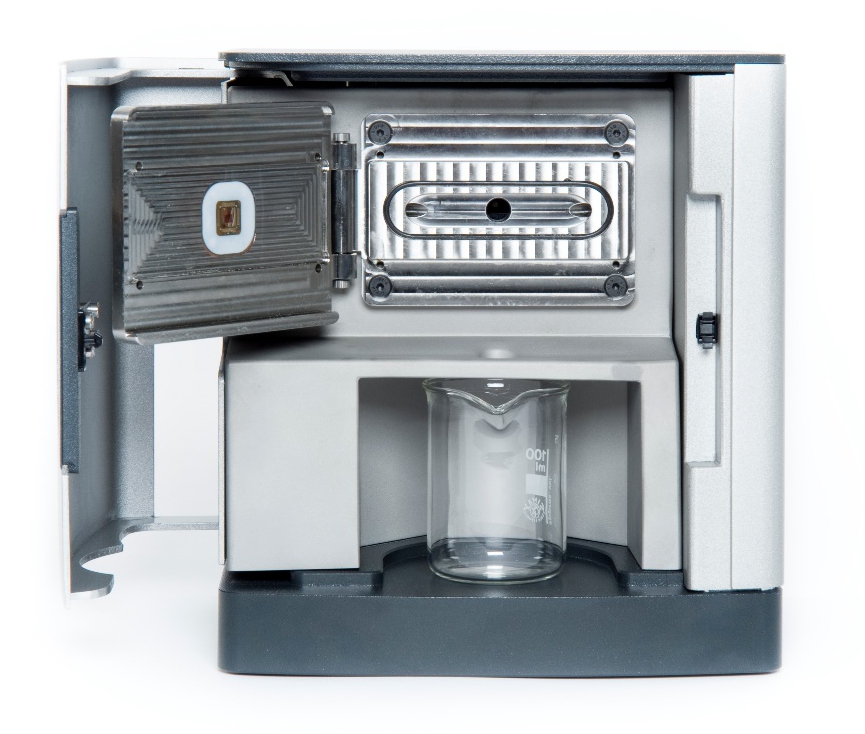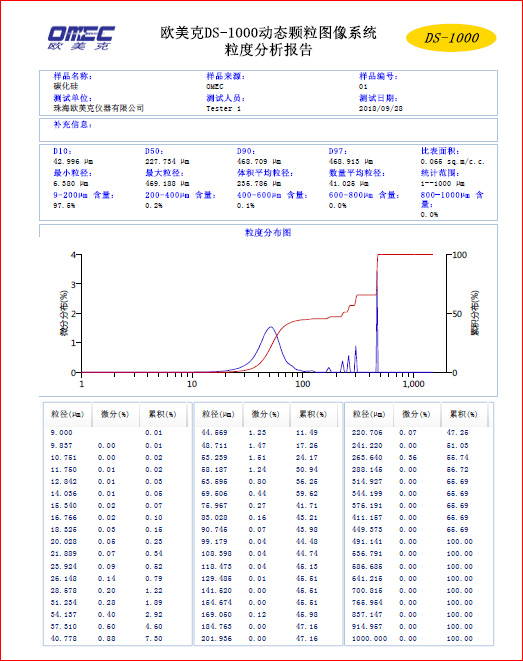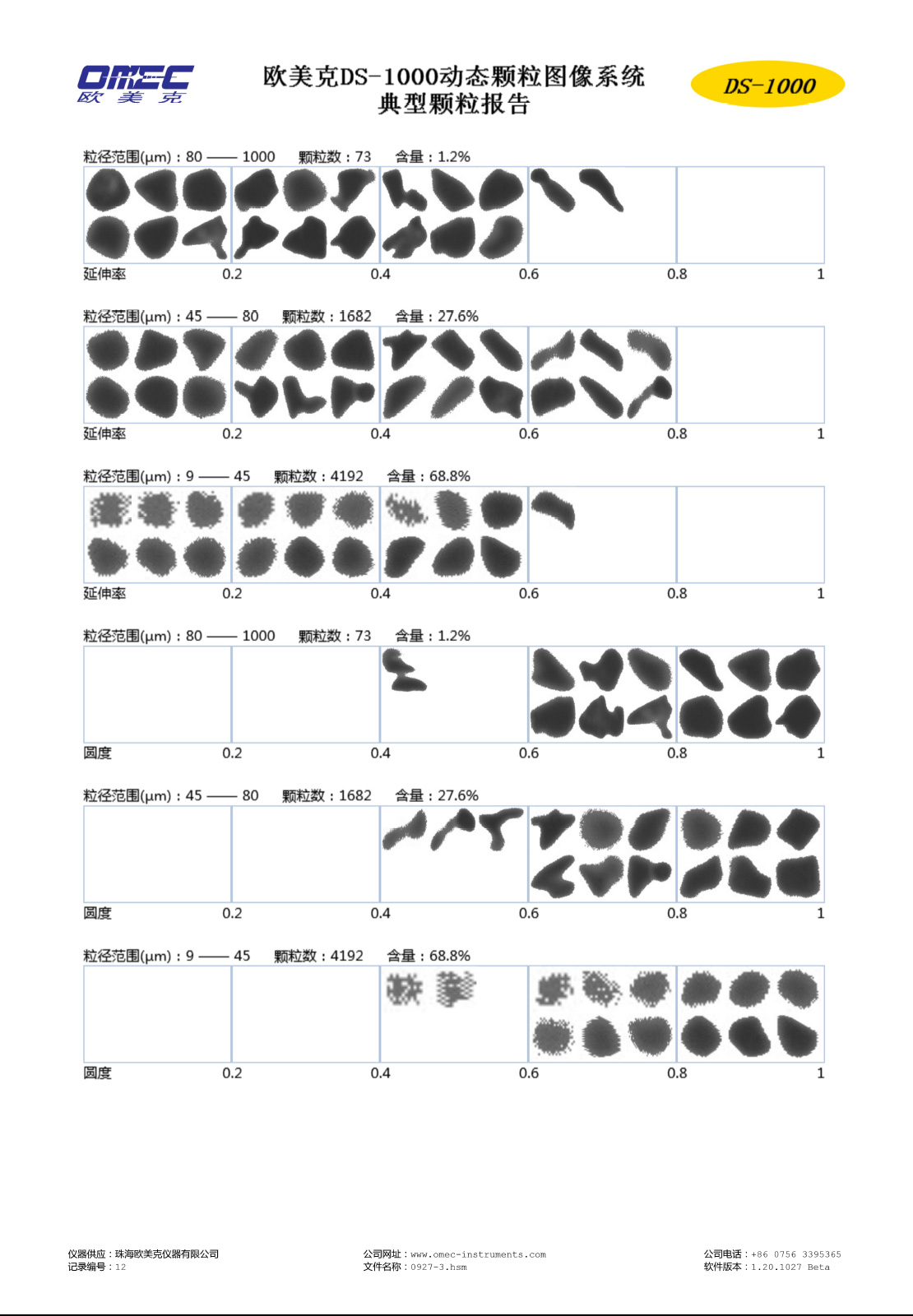 * Here includes elongation and roundness classification output function.
Technical parameters:
1. Measurement System
Particle size range (measurable)
9-1000 mu m *
Particle size range (observable)
1.4-1400 um* (sample window width 1500 um)
Pixel size:
1.4 um x 1.4 um
Pass standard
Design conforms to RoHS and WEEE
Compliance with CE/FCC/ICE5-003/VCCI
* Depending on the sample and dispersant
2. Conventional specifications
Size:
200 mm x 160 mm x 218 mm (long x wide x high)
Weight:
6kg
Power supply:
100-240V AC 50/60Hz < 1A
Power supply voltage:
100-240V, 50-60Hz
Energy consumption:
<6W
Storage temperature range:
- 40 C to + 50 C
Use temperature range:
+ 10 C to + 35 C
Humidity:
10%-80%(31 C)/50%(40 C) without condensation
3. System Configuration Requirements
Computer configuration:
Intel Core i5 processor, 4 GB memory, 500 GB hard disk, 1024 *768 resolution display screen, CD-ROM or DVD +/-RW driver and above
USB interface:
One USB 2.0 interface and one USB 3.0 interface,
Operating system:
Windows 7 (32/64 bit) or Windows 10 (64 bit)
Use temperature range:
+ 10 C to + 35 C