TerraSpec HALO Handheld Mineral Analysis Near Infrared Spectrometer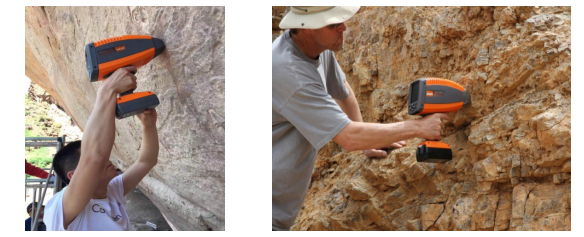 TerraSpec Halo hand-held mineral analyzer is the most portable near infrared (NIR) instrument in the exploration geological market. It is a hand-held full range instrument. Push the trigger, and this revolutionary instrument can instantly get mineral analysis results on the instrument. These results, which are almost real-time display, have greatly accelerated the work of exploration, improved efficiency, contributed to analysis and decision-making, and ultimately saved precious time and money for mining operators. TerraSpec Halo is widely used in archaeological and mining industries, including ceramic and pottery composition analysis, artwork identification and restoration, mineral exploration, mining and processing, etc.
TerraSpec HALO spectral library contains more than 700 spectra of 150 minerals. It comes from mineral catalogues of universities, personal acquisitions, international institutes, and the U.S. Geological Survey (USGS). It can be customized by customers to add spectral library for rapid identification of minerals. It also has the functions of GPS and voice memorandum.
HALO uses a patented mineral matching algorithm. By matching the spectrum of unknown substances with the built-in mass spectrometry Library of minerals, the best matching minerals are calculated and deducted from the spectrum of unknown substances. By using the deducted spectrum of unknown substances and continuing matching, up to seven related mineral components can be identified. Up to nine mineral components can be analyzed by introducing the obtained spectra into computer Halo Manager software. Random self-contained mineral ratings are displayed on the right side of the screen, describing the crystallinity or composition of minerals, allowing geologists to understand geological or geothermal conditions to guide potential minerals.