Analysis of TerraSpec 4 Series Minerals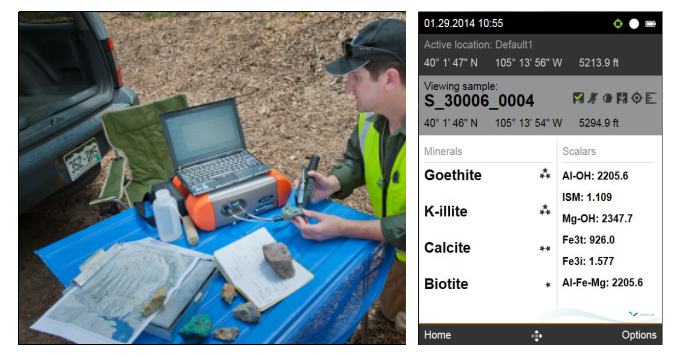 In the field of geology, TerraSpec series near infrared mineral analyzer has been widely recognized as an analytical technique. TerraSpec 4 high resolution mineral analyzer is highly portable and wireless communication design, with a resolution of up to 6 nm, helping to achieve mineral exploration objectives at the fastest speed.
TerraSpec is specially designed for samples with darker and darker mineral characteristics. It has enhanced performance in SWIR 1 and 2 regions for faster and more accurate in-situ nondestructive spectral data acquisition. This method has better field accuracy in the determination of important vector minerals such as kaolinite, montmorillonite and illite. These improvements can also provide a more accurate assessment of previously difficult-to-measure low-concentration and low-reflection minerals, such as serpentine and chlorite in iron-bearing minerals.

TerraSpec 4 performance features:
With reliable high performance
High Resolution Analysis of Rock and Mineral Species
Durable and reliable
Direct reading result
Contact probes are usually selected for mineral rocks, blasting debris and mineral cores.
Early and mid-term exploration

Near Infrared Spectrometer is an ideal method for locating mineral accumulation in exploration.
Identification of altered minerals using spectral library search tools helps locate minerals
TerraSpec4 Hi-Res Spectra with Higher Resolution
Mid-late exploration
Looking for more development bases
- Defining the geographical boundaries of ore bodies
- Geological Core/Drilling Chip for Drilling Process
Late exploration and production
Providing the resolution required for the development of chemical quantitative models
Rapid quantitative mineralogical and physical properties information.
Identification of mineral resources or ore reserves for further processing
- Understanding changes in orebodies at different locations